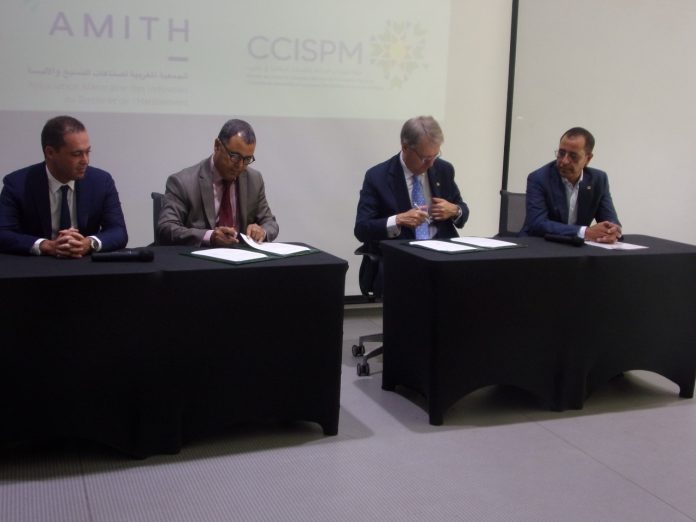 The Moroccan Association of Textile and Clothing Industries (AMITH) and the Chamber of Commerce, Industry and Services of Portugal in Morocco (CCISPM) signed this Wednesday, September 21, 2022, a partnership agreement which will allow two entities to benefit from each other's expertise.
Initialed by Anass El Ansari, President of AMITH and Jose Maria Teixeira, President of CCISPM, this agreement confirms the strong relationship between the two associations and reinforces the links of exchange and collaboration between Moroccan and Portuguese textile-clothing operators. , as Mr. Teixeira so aptly pointed out. " Despite the good and old relationship between the textile operators of the two countries, we believe that there is still a lot to do in order to create new opportunities and synergies of cooperation in benefit of a stronger positioning of Moroccan and Portuguese textiles. in a global context ".
" The choice of Portugal is no accident. 15 or 20 years ago, Portuguese textiles were in a difficult situation and today is the best in Europe and among the best in the world, and this, thanks to hard work and perseverance. declared the president of AMITH, for whom the Portuguese model sticks with AMITH's strategy. That of developing the chain from creation to logistics of Moroccan textiles. To this end, we found it appropriate to go to our Portuguese friends in order to take advantage of their experience and develop what we lack here in Morocco, because despite its quality, Moroccan textiles only sell for 60% ".
Welcoming in turn this partnership which aspires to stimulate and facilitate relations between the members of the two entities, in order to promote trade between the Moroccan and Portuguese textile industries, Omar Sajid, vice-president of AMITH said that "this agreement is a win-win partnership, which will allow Portugal to find in what it needs, just as Morocco will be able to find in Portugal what it lacks".
In addition to sharing experience, the AMITH – CCISPM agreement will support the twinning project of the two associations with the aim of developing joint projects in the future. It also aims to relaunch the project to create a technical center for product certification, consulting, research and development, innovation, training, fashion and design in Morocco.