Unboxing and contents
Test – Articulated arm Arctic Z2-3D 3rd generation
For all the gamers seasoned or even those working at home, it is not exceptional to note that the presence of two screens is almost obligatory to be comfortable. Well, to meet this need, whether for personal or for work, the Arctic brand offers all a range of articulated arms to install our screens. Today, it is therefore the third generation Z2-3D model that passes through our hands for its test. This is an arm that can support two screens up to 8 kg each. It is currently priced at €127.99 on the Arctic website.
In short, is this Z2-3D interesting? Answer now!
Unpacking
Our articulated arm signed Arctic arrives in a large, relatively heavy box (about 5 kg on the scale). On the latter, we learn that the Z2-3D is able to accommodate screens up to 34″. Compatibility level, we stay on the classic VESA in 75 x 75 or 100 x 100. In all, it will be able to hold up to 16 kg, i.e. 8 kg per arm. In addition, the Z2-3D is guaranteed for 6 years.
Now let's go to the back of our package where we find more technical specifications that we will discuss a little further down. This reference also has a usb-hub which will allow you no more, no less, to connect your peripherals and USB keys to the base of the stand. It has 4 USB 3.2 ports.
Contents of the package
In this package you will find:
The base of the stand
The pole/tube
A plastic clamp to place around the tube
An arm splitter
Arms with actuator for screens
The hardware and the Allen keys that go with it
The assembly instructions
Everything is neatly stored in boxes when they arrive.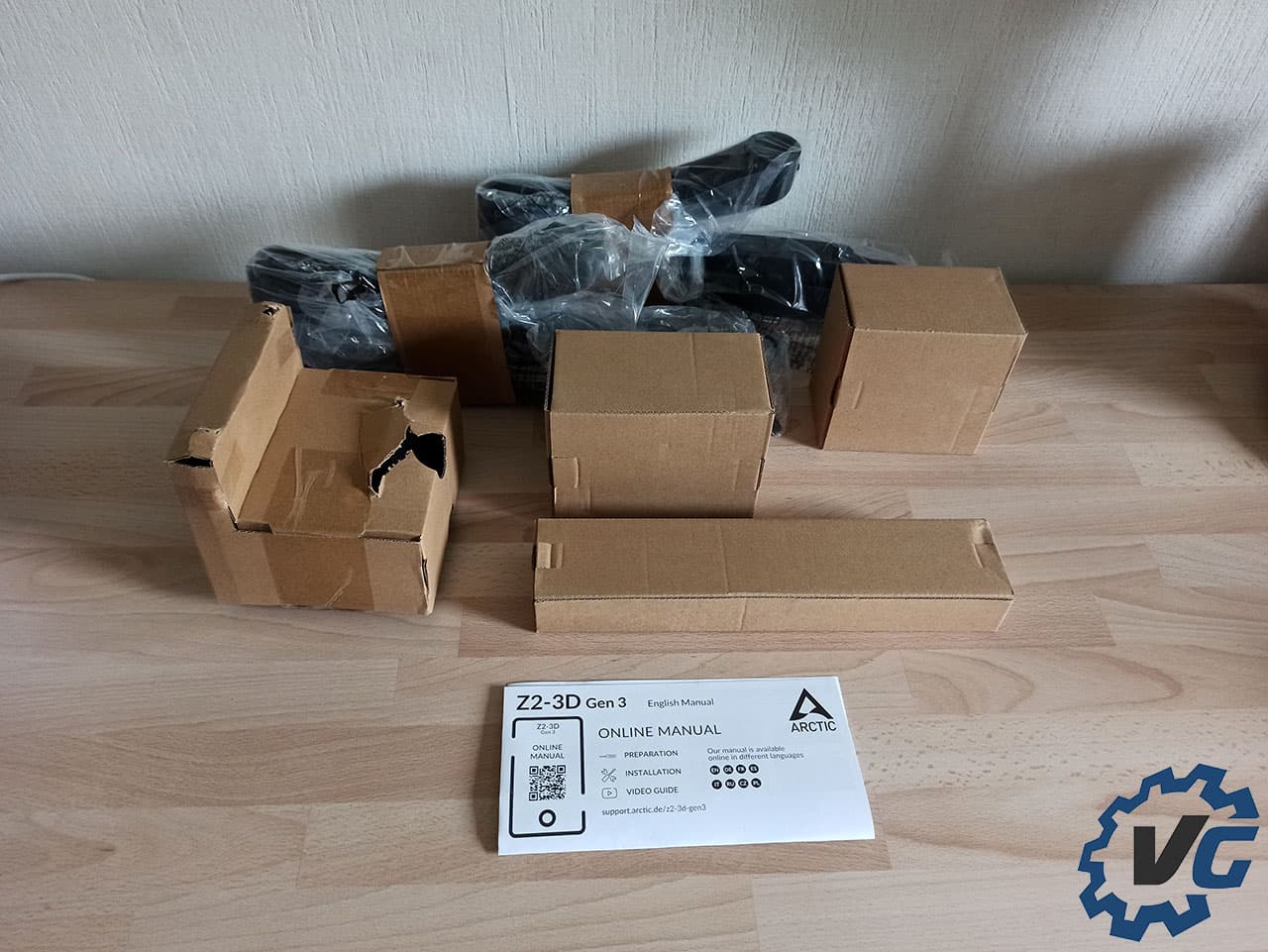 Z2-3D Technical Specifications
Materials: metal, aluminum alloy ADC12
Color: matte black
Tilt: +/- 90°
Swivel: 180°
Rotate: 360°
Warranty: 6 years
VESA Compatibility: 75×75 / 100×100
Maximum screen weight: 8 kg
Maximum screen size: 820 mm
Monitor size: 16:9 / 34″
Support thickness: 20 to 65 mm