German-American actress Diane Kruger is part of the jury of the 19th edition of the Marrakech International Film Festival. Paris Match met her.
Paris Match. How did you react when you were asked to be a member of the jury?
Diane Kruger. Mélita Toscan du Plantier has been asking me to join it for several years, but I've never been able to. We were in France for a year for work so it was the perfect time. I love Marrakech, it's a very beautiful festival. So I do it with great pleasure.
How do you approach this role?
We are going through a difficult period for the cinema, for all professions for that matter. But since the Covid, cinemas are bad, people no longer go to theaters… I hope to discover a certain freshness, a new breath that could inspire me. Cinema has always been something that made me dream. I hope to find that again, a wind of youth, optimism and poetry.
What's next after this ad
How were these few days with Paolo Sorrentino, the president of the jury ?
He's great, we already knew each other. He's a filmmaker that I adore, he has an incredible sensitivity. With the other jurors, we all get along very well. There are very different points of view but for the moment, we tend to agree on the films that stand out.
What's next after this ad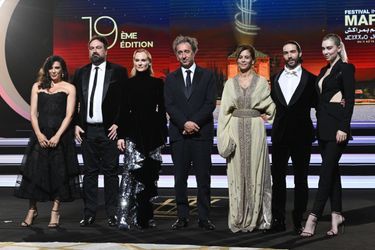 You have been a juror in Venice, Cannes, Berlin… How is the Marrakech Festival different?
Only first works are presented so it changes a lot! I find it very interesting because the directors have the opportunity to really express themselves. A first film is perhaps the only time it's possible. There is something pure.
What is your first festival memory?
It was for "Troy". I was climbing the stairs for the first time, I was completely unknown. I remember being stunned by the number of photographers. They knew my name when no one knew me! It was very strange. I was very impressed by the palace, by the people present… Otherwise, in 2005, when "Joyeux Noël" was presented out of competition at Cannes, I remember that something incredible had happened in the room . The film was highly acclaimed. The public had taken to the steps. He was crying. It was super moving. It was the first time I realized that we could touch people so much.
What's next after this ad
What's next after this ad
It's true that you can't often see the direct reaction of the spectators.
When we make movies, we are alone or with a team. It's rare for a film to be so successful and affect the public so much. When that happens, it's shocking. In the theatre, there is something more carnal, more immediate.
Can you tell us a few words about your next film "Joika", directed by James Napier Robertson?
We shot in Warsaw, Poland. I play a classical dance teacher. I've always dreamed of making a film about it. Ballet is my first love. I was a dancer myself. I can not wait to see it. It will be released normally next year, in 2023.