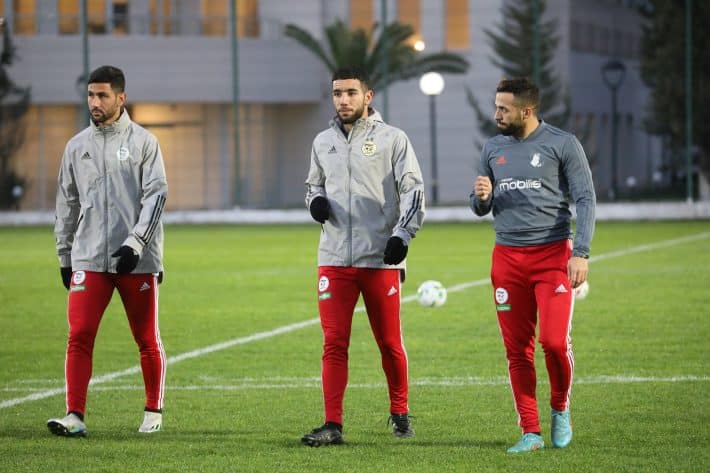 The Algerian national team is preparing for the quarter-final match of the African Nations Championship (CHAN2022) against Côte d'Ivoire, scheduled for Friday at the Nelson Mandela stadium in Baraki (Algiers).
Madjid Bougherra's proteges are already planning on preparing for the "Quarters" match against the elephants of Côte d'Ivoire. Indeed, yesterday, the Greens trained at the technical center of Sidi Moussa.
"The session begins with a warm-up round with the ball (juggles with two touches of the ball) then a series of workshops where several ranges were worked on under the guidance of assistant coach and physical trainer Vincent Texier. They indulged in a multitude of ranges (straight races, curvilinear races, stops, changes of direction, accelerations, etc.), wrote the FAF in a press release published on its official website.
The federal authority adds that "the rest of the program was devoted to tactical work where the group was split in two, with opposition on each side. The national coach, Madjid Bougherra, was at work to frame and reframe his foals on the different phases of play and other animations. Afterwards, the players indulged in a ten-on-ten opposition on two-thirds of the field. The session ended with finishing work in front of the goals and under a light rain".
Abdelaoui attack against "Elephants"
On the other hand, Bougherra will be able to recover his captain, Ayoub Abdellaoui. The latter remember – missed the last game against Mozambique due to injury. He indeed rejoined the group yesterday.
As for Dehiri, the author of the only goal against the "Mambas", he trains solo with the physical trainer, adds the same source.
For his part, Chouaib Debbih ran a lot after having warmed up for a long time in motion. These two players are uncertain against the Ivorians.
The program for Wednesday, January 25, 2023 :
12:15 p.m.: Video session.
4:30 p.m.: Work in the gym.
5:00 p.m.: Training session.
5:00 p.m.: Session open to the media for a quarter of an hour + mixed zone.
8:30 p.m. – 10:30 p.m.: Treatments.