Christiaan van der Klaauw Astronomical Watches launches the first watches out of the workshop under the direction of master watchmaker, technical director and co-owner Pim Koeslag. Three new steel versions of the Christiaan van der Klaauw Ariadne celebrate this special occasion.
" Steel combines a sporty look with our classic designs, it is sturdy and timeless ". Pim Koeslag invited Jochen Benzinger to beautifully engrave the rotor of each of the new watches.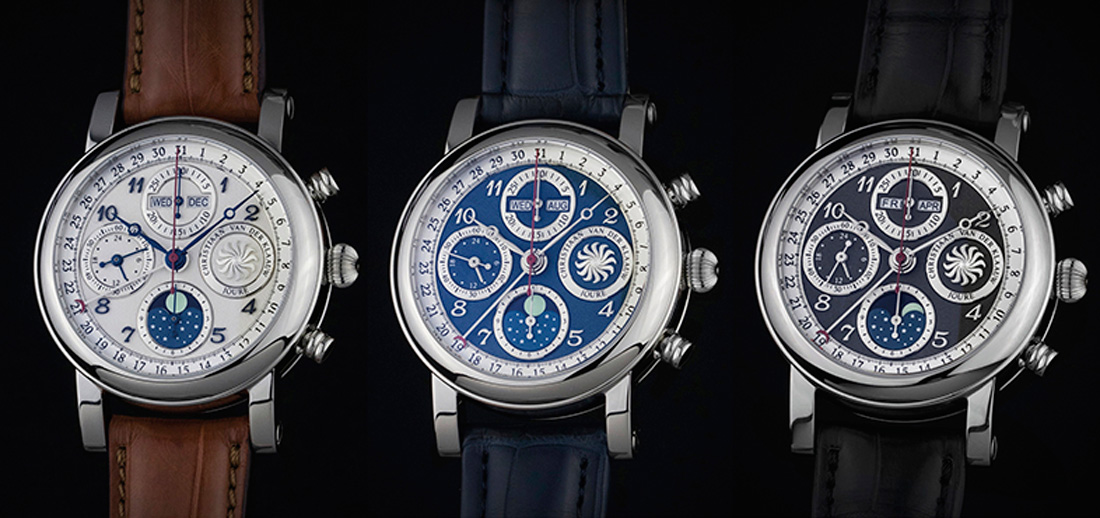 The new steel versions of the Ariadne feature the famous full-calendar chrono with 24-hour indication, as well as the highly accomplished and visually captivating moon phase indication. The new steel models have a frosted silver, navy blue or anthracite dial, and brushed circular rings around the counters. They are completed by a high-quality alligator leather strap, with a luxurious folding clasp bearing Christiaan van der Klaauw's engraved "12-claw Sun" logo.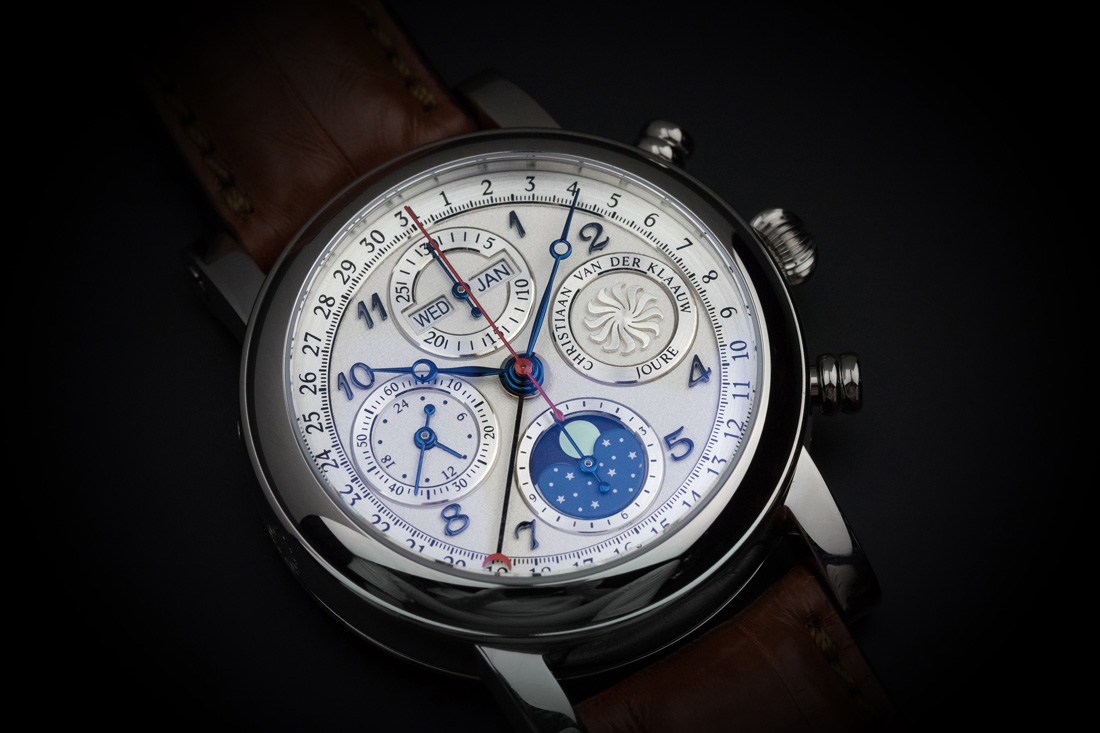 But what makes these models particularly unique is the hand engraving of the 'claw' of the rose gold-plated rotor, which was carried out by the famous engraver Jochen Benzinger. This sublime rotor, with its exterior guilloché decoration on rhodium-plated steel, can be admired through the sapphire crystal caseback.
Rotor engraving by Benzinger
The German engraver Jochen Benzinger is an authority all over the world. Its hand-engraved, hand-skeletonized, guilloché watches and movements are the hallmark of its expertise. Using historical machinery and tools, over 100 years old, to create true works of art, he spends weeks perfecting his watches and individual components with the typical character that only a one-of-a-kind, hand-created piece can. have. Christiaan van der Klaauw is pleased to introduce you to this masterpiece in the new Ariadne series.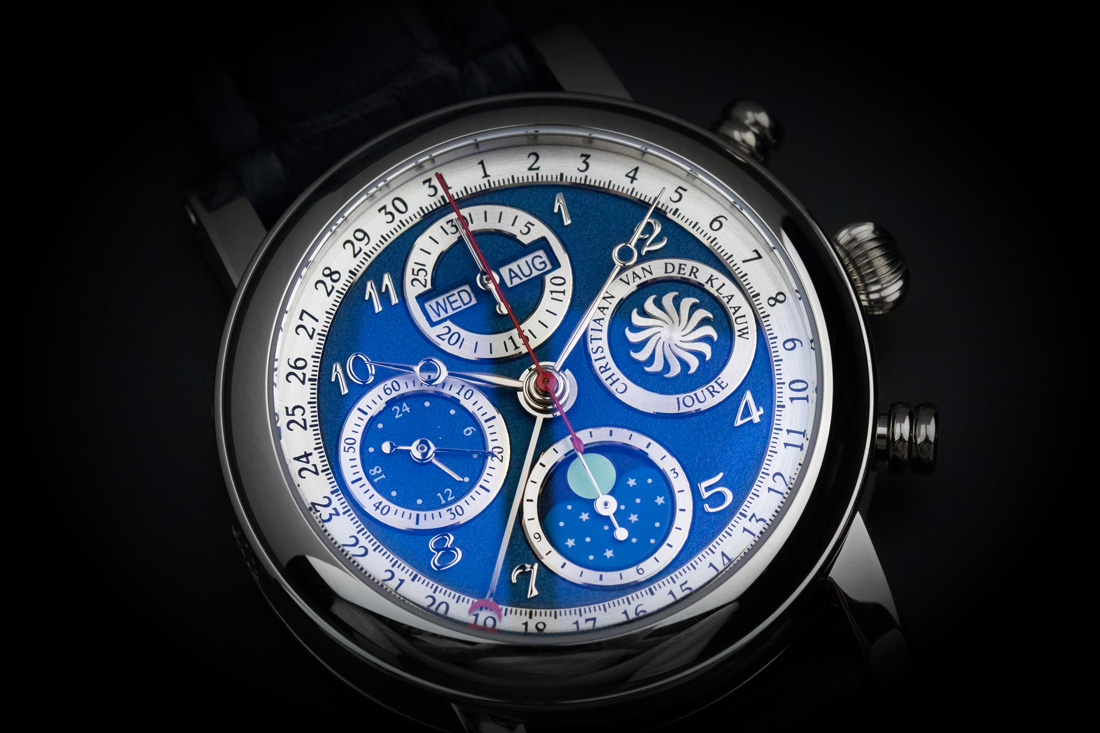 The CVDK7758 Ariadne caliber
The chronograph movement contained in this magnificent watch is the CVDK7758 caliber with Ariadne complication. The chronograph indicates the elapsed seconds, minutes and hours. In addition, the watch has a full date indication (day, date, month), moon phase indication at 6 o'clock and time indication on a 24-hour scale.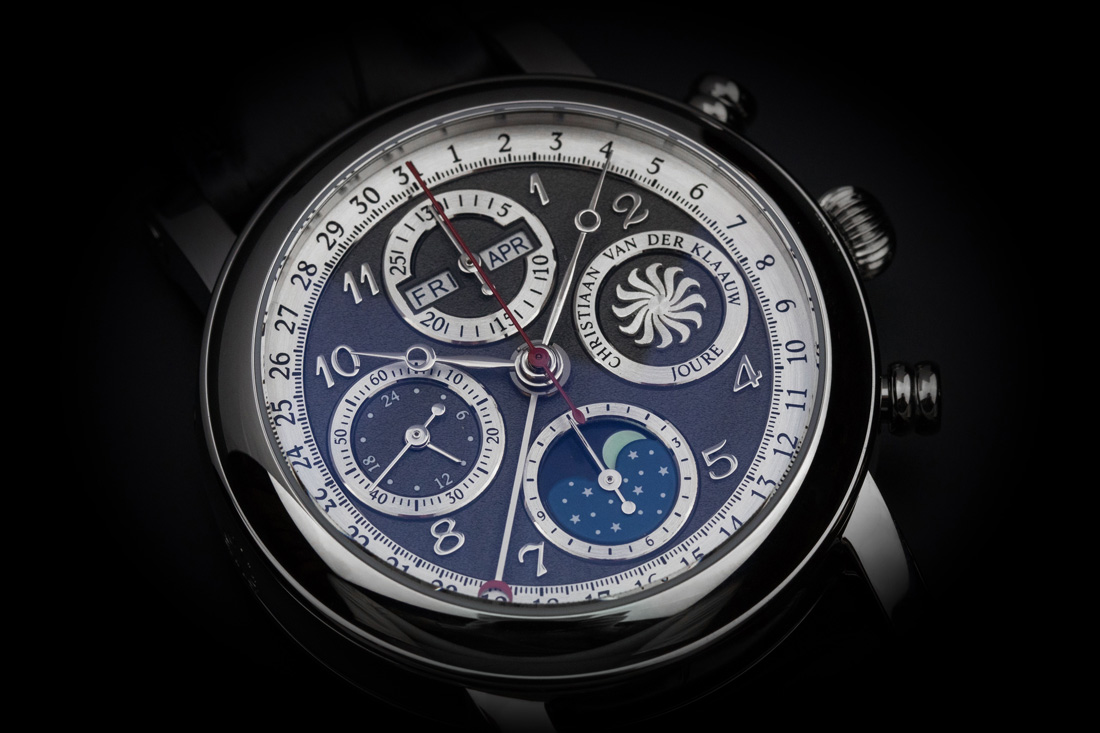 The position of the Moon can be read at 6 o'clock. When the Moon is left of center, it is in its first quarter. When the Moon is in the center, it is the full Moon and to the right of the center, it is in its last quarter. If the Moon is not visible, but you see a beautiful dark blue sky outside the window, it is the new Moon.
Data sheets
CVDK Ariadne CKAR3335 | Silver, Ariadne CKAR3366 | Navy Blue and Ariadne CKAR3344 | Anthracite
Movement CVDK7758, automatic winding, 25 jewels, maximum power reserve of 48 hours. Rotor Rhodium-plated guilloche, with rose gold-plated center, hand-engraved by Jochen Benzinger. Functions Hours, minutes, small seconds, 24-hour indication, day, date, month, moon phase, chronograph. moon phase, chronograph; 12-hour counter, 30-minute counter, seconds counter. Housing High quality steel, ø 40 mm, sapphire crystal, sapphire crystal back. Dials Frosted Silver or Frosted Navy Blue or Frosted Anthracite with applied blue indexes and applied brushed circular rings. Bracelet : Brown leather. Loop steel folding clasp engraved with the logo. Price 8,450 euros including tax.
About Christiaan van der Klaauw
Christiaan van der Klaauw Astronomical Watches is the only workshop in the world entirely dedicated to the design and production of exclusive, handcrafted astronomical watches. Astronomy – time in its purest form – is the most important source of inspiration for the workshop.
Christiaan van der Klaauw (1944) was born, raised and educated in Leiden, the city where the greatest Dutch scientist of all time, Christiaan Huygens, began his studies in 1645.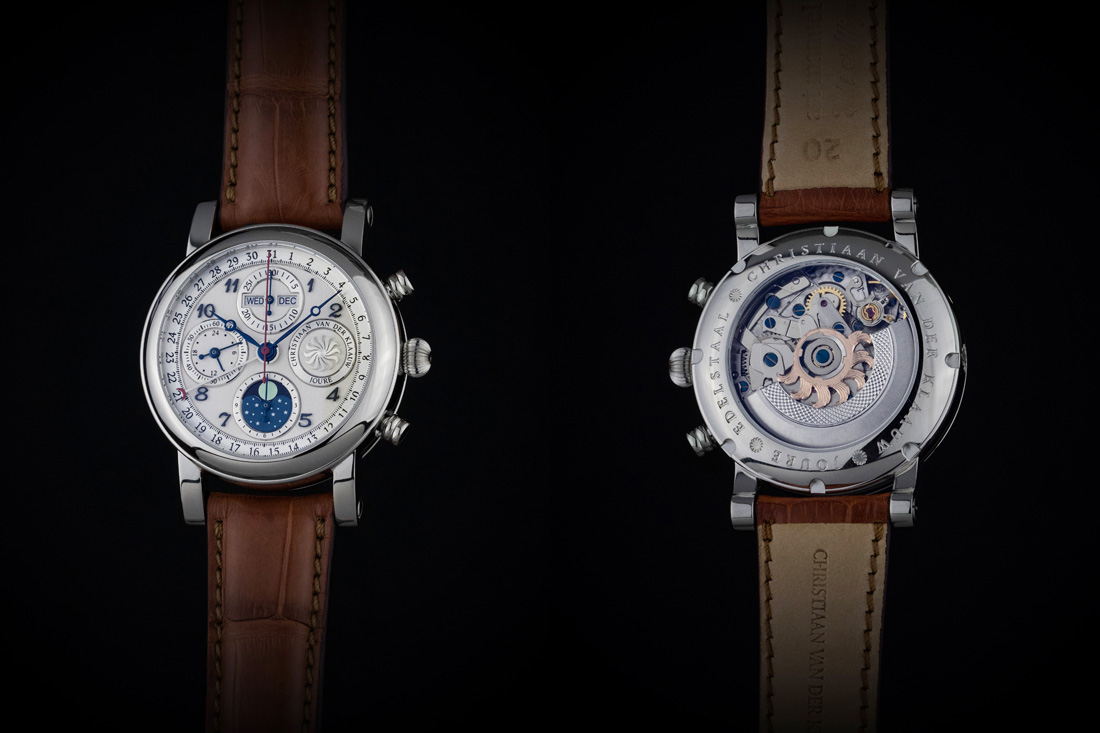 It was here that Van der Klaauw's love for astronomy developed and he wanted to combine the mathematically predictable movements of celestial bodies with a clock mechanism, just like the Frisian Eise Eisinga (1744- 1828) had done this before by building a very accurate planetarium in a Franeker house on his roof. After Christiaan van der Klaauw completed his training at the Instrument Makers School (LiS) and a watchmaking course, he moved from Leiden to Joure in 1967, where he started working for a clock manufacturer in Frisian living room.
In 1974, Van der Klaauw set up on his own and presented his first clock with astronomical complications. This is the beginning of an exceptional story. In 1989, he was made an honorary member of the Académie Horlogère des Créateurs Indépendants (AHCI), and in 1992 he won the prize for the most innovative movement design for his Pendule Variable in Basel, Switzerland. Two years later, he began working on his first wristwatch, the CVDK Satellite du Monde. In 1999, he presented the masterpiece CVDK Planetarium, equipped with the smallest mechanical planetarium in the world.
The story continues with Daniël & Maria Reintjes…
In 2009, a new era began. Christiaan van der Klaauw has reached retirement age and sells the business to designer couple Daniël and Maria Reintjes with whom he had established a business relationship for ten years. Daniël and Maria immediately started to reposition the brand. The new managers decide to focus exclusively on astronomical watches and add "Astronomical Watches" to the brand name. A new collection and magnificent astronomical complications follow – including the Real Moon Joure with the most accurate 3D moon phase in the world. In addition, two Planetarium masterpieces have been developed exclusively for the Maison de haute joaillerie Van Cleef & Arpels, the Midnight Planetarium and the Lady Arpels Planetarium.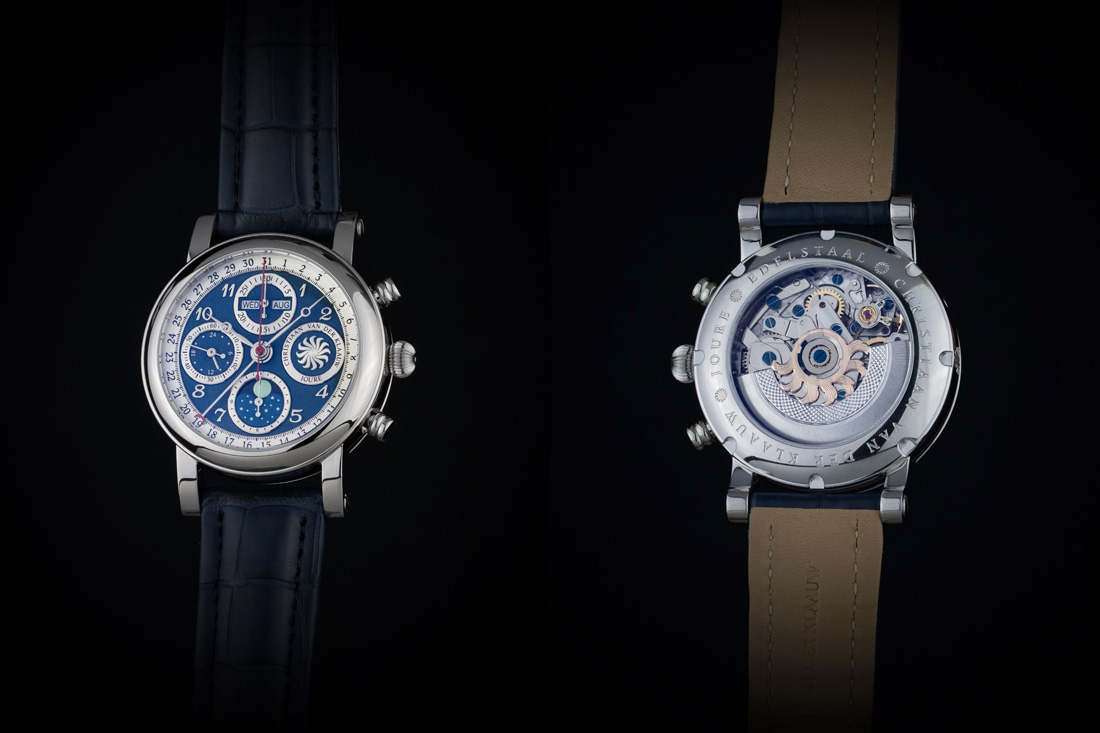 In 13 years, Daniël and Maria have transformed their CVDK business into a niche workshop, becoming the only watchmaking workshop in the world entirely dedicated to the design and production of exclusive, handcrafted astronomical watches. In 2016, CVDK was recognized as a fine watchmaking workshop by the Fondation de la haute horlogerie (FHH). And in 2021, Daniël and Maria received the ultimate recognition in watchmaking when they were awarded the prestigious Grand Prix d'Horlogerie de Genève – Calendar and Astronomy Watch Prize for the "CVDK Planetarium Eise Eisinga" at the Grand Prix d'Horlogerie de Genève. Geneva Watchmaking (GPHG).
… and continues with Pim Koeslag
Master watchmaker Pim Koeslag acquired a majority stake in CVDK on June 1, 2022 and became a co-owner. He joined the current board as CTO, alongside Daniël Reintjes (CEO/Creative Director) and Maria Reintjes (Marketing Director) who retained a stake in the company.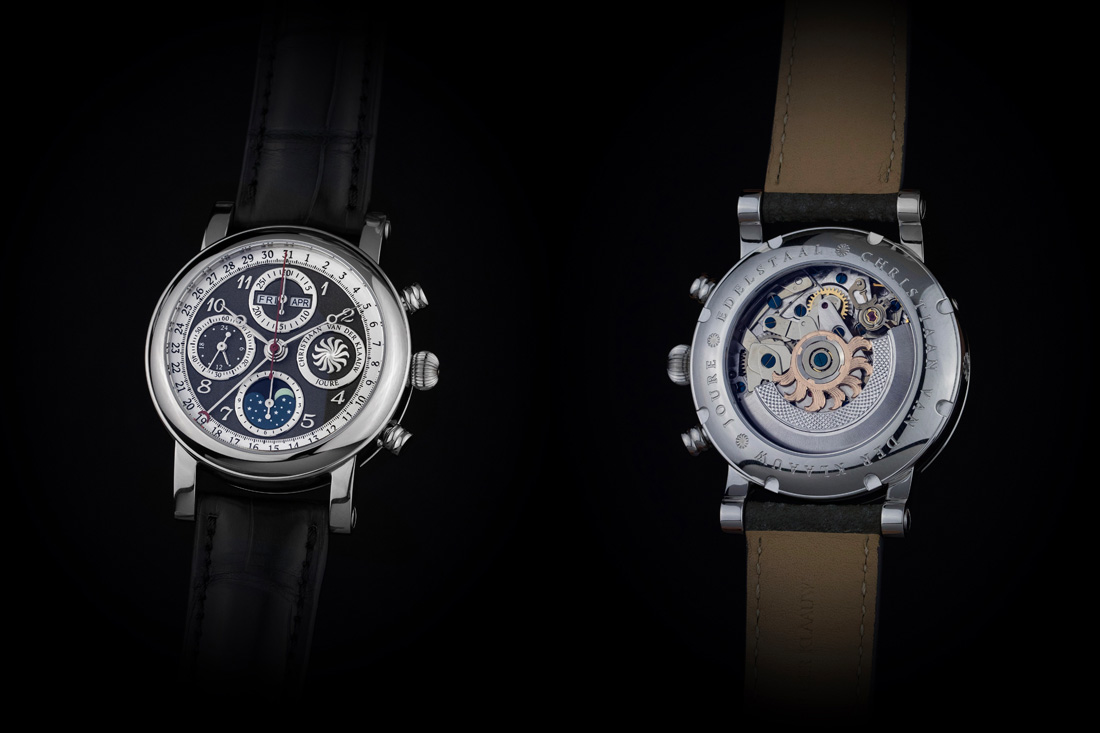 Master watchmaker Pim Koeslag was the driving force behind Swiss-Dutch brand Frederique Constant and sister brand Alpina Watches from 2003 to 2022, and co-founded Ateliers deMonaco in 2008. His predilection for all things universe and timekeeping brought him back to the Netherlands in 2022. That year, he gave in to his great passion for Christiaan van der Klaauw.
Andre Tirlet