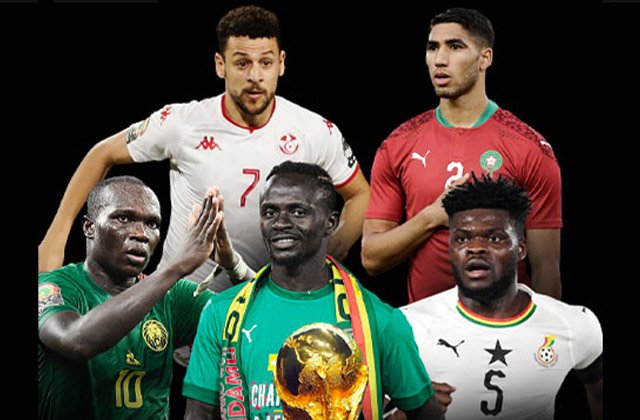 The five African teams qualified for the 2022 World Cup will take advantage of the September FIFA window to play friendly preparation matches.
Initially reserved for the CAN Côte d'Ivoire 2023 qualifiers, the September FIFA window will be dedicated to friendly matches. Following the "slip" of the said CAN at the start of 2024, the calendar has been rearranged in order to give the globalists the opportunity to play preparatory matches, while the teams from the Old Continent will play League of Nations days.
Future opponent of the reigning world champions, Tunisia will be in France against the Comoros, on the 22nd behind closed doors in Croissy-sur-Seine, then against Brazil, on the 27th in front of a well-stocked Parc des Princes. The Auriverde selection will have previously faced Ghana, who will also test against Nicaragua.
African champion Senegal will be matched against Bolivia on the 24th in Orleans, then against Iran, three days later in Vienna, Austria.
For Walid Regragui's debut on the bench Moroccothe Atlas Lions will play two matches in Spain: against Chile, the 23rd in Barcelona, ​​then Paraguay, the 27th in Seville.
Finally, the Indomitable Lions of Cameroon will be gathered in South Korea, where they will face Uzbekistan and South Korea. As for the other African teams, many of them will also be hard at work.
Full program of the friendlies for the month of September:
–Wednesday, September 21:
Libya – Uganda, in Benghazi
–Thursday, September 22:
Comoros – Tunisiain Croissy-sur-Seine (France)
–Friday, September 23:
Algeria – Guinea, in Oran
Bahrain – Cape Verde, in Manama
Uzbekistan – Cameroonin Goyang (South Korea)
Brazil – Ghanain Le Havre (France)
DR Congo – Burkina Faso, Morocco
Mali – Zambia, in Bamako
Egypt – Niger, in Cairo
Morocco – Chilein Barcelona (Spain)
–Saturday September 24:
Uganda – Tanzania, in Benghazi (Libya)
South Africa – Sierra Leone, in Johannesburg
Senegal – Boliviain Orleans (France)
Ivory Coast – Togo, in Rouen (France)
Mauritania – Benin, in Mohammedia (Morocco)
Congo – Madagascar, in Rabat (Morocco)
Martinique – Guinea-Bissau, in Fort-de-France
–Sunday September 25:
Niger – Liberia, in Cairo (Egypt)
–Monday, September 26:
Mali – Zambia, in Bamako
–Tuesday, September 27:
Libya – Tanzania, in Benghazi
Algeria – Nigeria, in Oran
Guinea – Ivory Coast, in Amiens (France)
South Korea – Cameroonin Seoul
Comoros – Burkina Faso, in Rabat (Morocco)
Brazil – Tunisiain Paris (France)
DR Congo – Sierra Leone, Morocco
Egypt – Liberia, in Cairo
Ghana–Nicaraguain Lorca (Spain)
Mauritania – Congo, in Mohammedia (Morocco)
Benin – Madagascar, Morocco
Togo – Equatorial Guinea, Morocco
South Africa – Botswana, in Johannesburg
Senegal – Iranin Vienna (Austria)
Morocco – Paraguay in Seville (Spain).
(BeIn Sports)