Like so many other apps, FoodNames allows you to set goals or limits, and track your nutrition throughout the day. But after a few months of work, developer Ryan Ashcraft delivers a new interface aimed at reducing all the friction that could lead you to throw in the towel.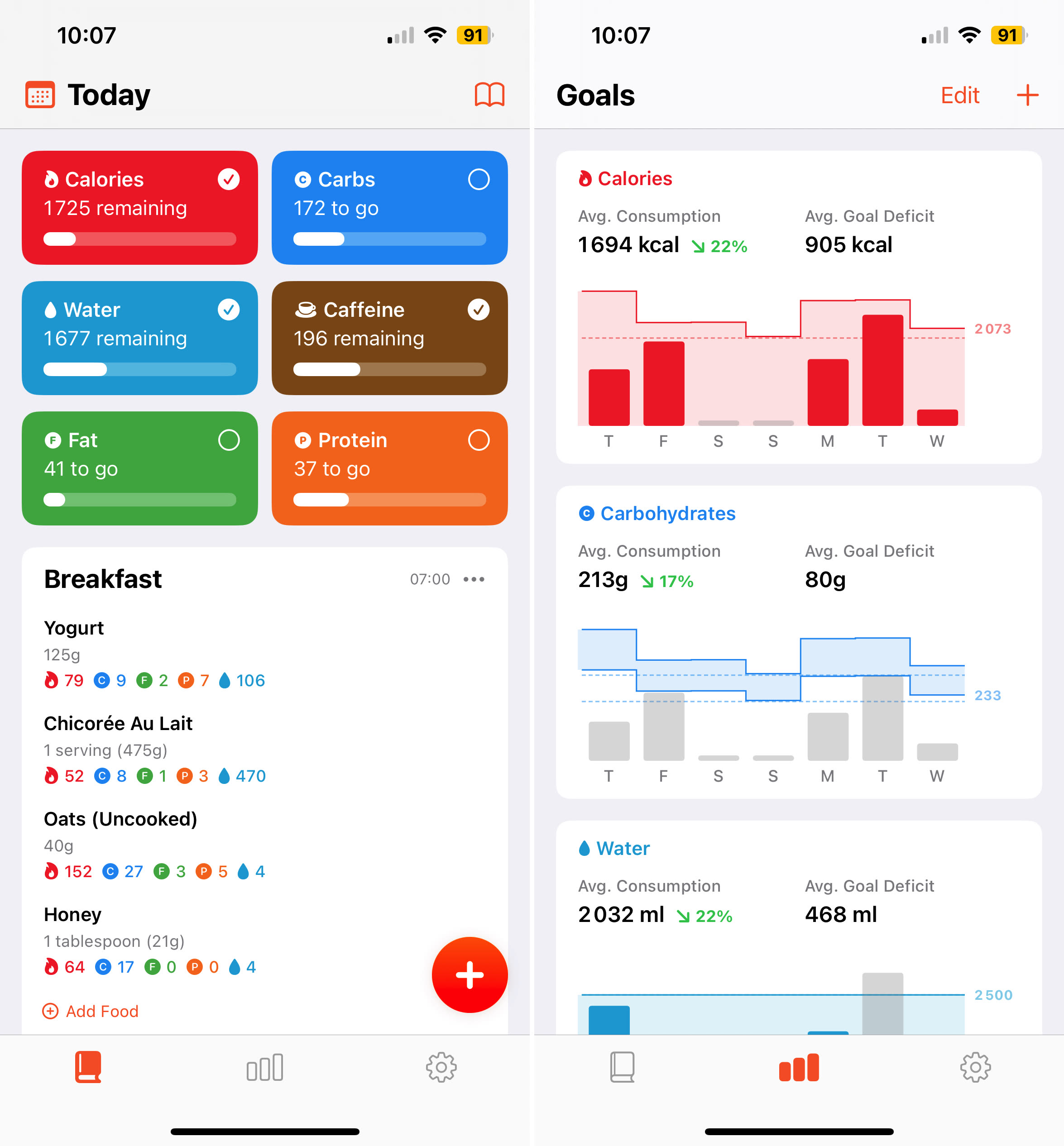 FoodNoms still offers six types of meals (breakfast, lunch, dinner, snack, pre- and post-workout), but now allows you to add custom types, and especially to determine a time range during which the elements are automatically added at such and such a meal. A button allows you to directly assign an item to a meal, and another to resume the meal from the day before.
The app stood out through its label "scan" function to speed up the entry of nutritional information. After three years, the database is now well populated, and the most common items can be added as favourites, which can be declined in several quantities. Adding a glass (or bottle) of water, a cup (or jug) of coffee, or even a chunk (or baguette) of bread only takes two touches.
Smart suggestions, which bring up the most relevant elements depending on the time of day, are more subtle. In my experience during the development of this new version, favorites and suggestions are not nearly enough to fill in your food diary, if you have a relatively routine diet.
The iPad application abandons the age-old tab bar in favor of a sidebar, taken over by the Mac application now designed with Catalyst, and therefore (a little) more manageable with the pointer. Unfortunately, the Apple Watch app hasn't received the same care, and Ashcraft still hasn't planned a translation, although it has made some adjustments to better reflect European conventions.
The objectives and limits are no longer necessarily fixed, but can evolve according to the data provided by the Fitness and Health applications. The calorie "budget" can thus be raised during a particularly active day, and the macronutrient objectives adapted accordingly. FoodNoms continues to track water, caffeine, and alcohol intake, and calculate time between meals for "intermittent fasting" enthusiasts.
FoodNoms is no longer content to send its data to Health, but can also retrieve data from other applications, and thus form a kind of nutritional dashboard. Data is now synced to the new encrypted storage in iCloud, and can be more easily exported as a CSV file.
FoodNoms remains free for basic use, but the FoodNoms Plus subscription is more than ever necessary. In addition to fluid intake tracking, it now covers custom meal types, favorites, two-way syncing with Health, and auto goals. The subscription has recently increased to €5.49 per month or €34.99 per year.
.