After the success of the saga The Extraordinary Journey, the Filippi / Camboni duo returns with a new series of adventures. A fascinating story which, under cover of a plot where the accents of the stories of Melville and Asimov mingle, addresses themes as varied as sociology, bio-ethics, ecology or the preservation of species.
In a futuristic universe, Alba, 17, lives cloistered on an asteroid and its luxurious domain. Her parents always kept her away from the world. But the day she is kidnapped, everything changes! Rescued by the Arrow, Alba must adapt to her new life aboard this cosmic ship and find her place within her crew, which explores the various secondary space bubbles in search of stellar creatures… These impressive creatures represent the main economic source of the different species that hunt them relentlessly.
But chasing them is not without danger. So when Alba dares to venture into space without a spacesuit to approach them, her gesture causes general amazement! Intrigued, the crew begins to perceive the singularity of its host. Alba feels that a special connection binds her to these incredible beings. But what she still doesn't know are her true origins. The secrets that surround it could well go so far as to trigger a revolution and challenge the established order as well as the fragile balance uniting the multiple civilizations of this universe.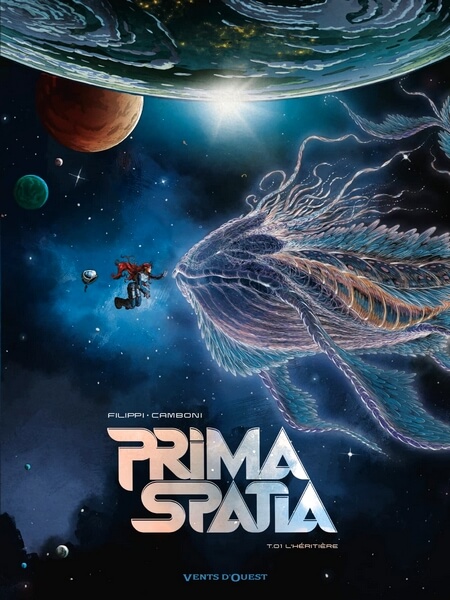 Screenwriter: Denis-Pierre Filippi
Designer: Silvio Camboni
Editor ‏: ‎West Winds
56 pages
Price: €14.95