Thanks to their reduced costs, the 32-bit microcontrollers of the STM32C0 series allow applications generally covered by 8 or 16-bit microcontrollers to benefit from the advantages of STM32 designs and their extended ecosystem.
STMicroelectronics has just marketed under the reference STM32C0 the most affordable line of 32-bit microcontrollers in its catalog to bridge the gap between 8 or 16-bit microcontrollers and the most powerful 32-bit microcontrollers.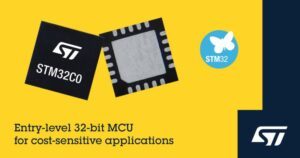 The objective is twofold. For developers already working with 32-bit microcontrollers, it's all about reducing costs thanks to the attractive price and optimized bill of materials of the STM32C0 series models, without affecting the quality of the design. And for designers developing applications that typically use 8-bit or 16-bit microcontrollers (home automation, industrial pumps, fans, smoke detectors, etc.), the STM32C0s will allow them to upgrade their design by taking advantage of MCU-based designs. STM32 microcontrollers (faster response, additional functions, network connection, etc.) and their extensive ecosystem (resources including tools, software packages and the ability to connect with various developer communities), with limited impact on their structure of costs.
Adopting a 90 nm process, the STM32C0 series microcontrollers exploit a Cortex-M0+ core operating up to 48 MHz and integrate up to 32 KB of flash memory, between 6 and 12 KB of Ram, an analog-to-digital converter 12-bit at 1.7 MS/s, multiple 16-bit timers (including an advanced control timer for applications such as motor control) as well as a precision (1%) internal clock. They offer an instruction rate of 44 Dmips with a CoreMark performance-to-efficiency ratio of 114, while consuming only 80 µA/MHz in run mode.
Now in volume production and covered by ST's 10-year longevity program, the STM32C0 series microcontrollers are available in nine different package types (from 8-pin SON to 48-pin LQFP, to UFQFPN to 20 pins), the most compact of which measures only 1.70 x 1.42 mm.
Similar items