The new generation of Apple TV 4K benefits from double the storage capacity compared to the previous one: the base model has 64 GB of storage and the higher model has 128 GB. Is this 128 GB worth it? For the time being, not at all, because we cannot use it completely.
The website FlatpanelsHD noticed that past the 64 GB of space used, it became impossible for him to install more games. Our colleagues have noted this problem with tvOS 16.1 as with tvOS 16.2 currently in beta.
We did a test on our end to see if this problem was widespread. First observation, you have to force yourself to exceed the 64 GB used with the content of the App Store. The Apple TV is first and foremost a streaming device and tvOS games are no more than 4 GB when they arrive in the box. So you have to download a lot of games to occupy tens of gigabytes.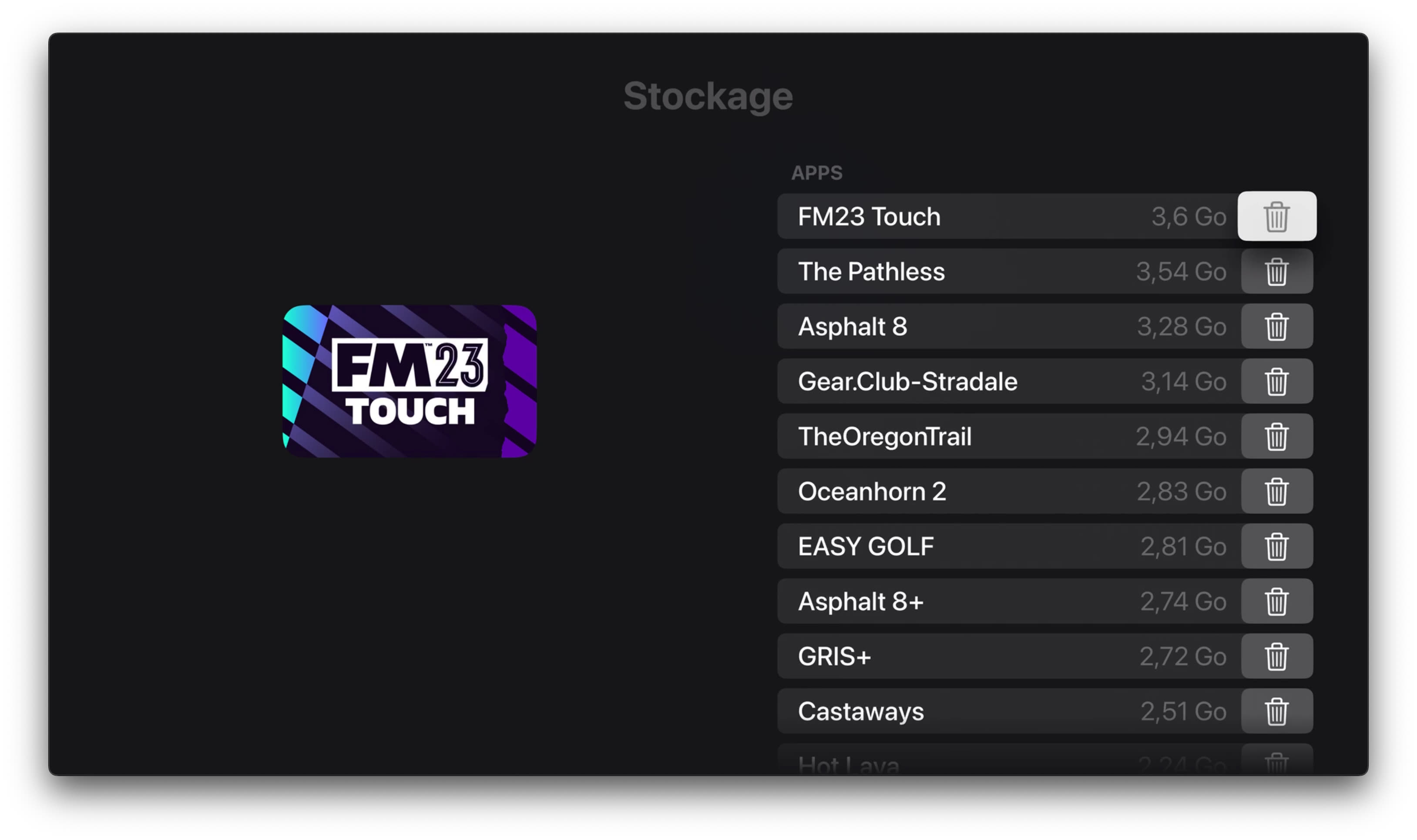 Second observation: tvOS does not provide information on the remaining storage space. In Settings > General > Manage storage, there is a list of all installed apps with their weight, but no information on free space. We had to install a third-party app, TV Newsto have this indication without taking out our calculator — even if we did take it out anyway to make sure that the information given by TV Info was correct.
After downloading dozens of games, especially on Apple Arcade, our Apple TV 128 GB ended up displaying this message: "Failed to install app. The app cannot be installed because there is not enough space available. Delete one or more apps or manage your storage in Settings. »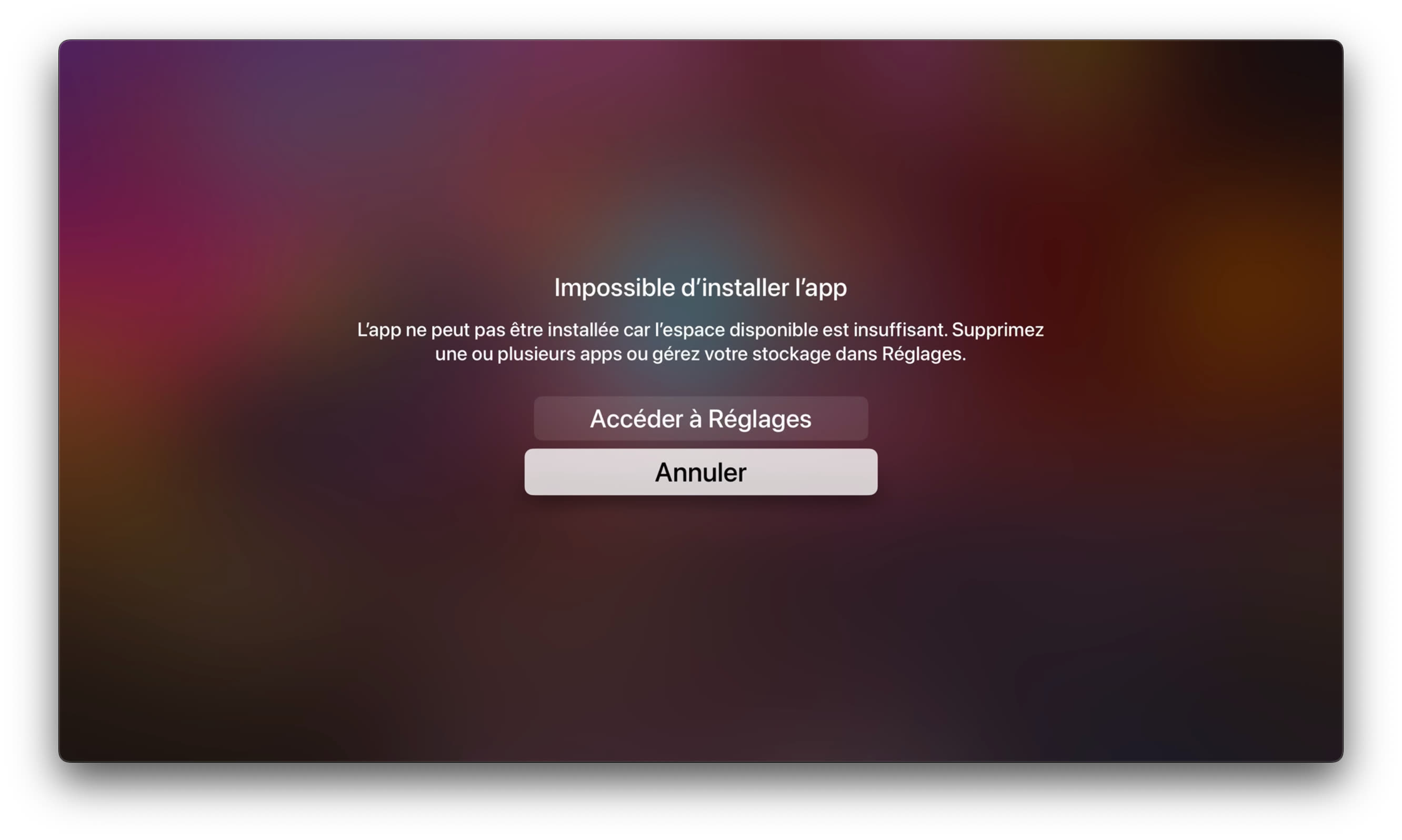 Contrary to FlatpanelsHD, we were able to fill the device beyond 64 GB. However, the maximum 128 GB was still quite far when Apple TV began to refuse new installations, since there was still 43 GB free. The Apple TV should save some space just in case for new content (be aware that games can download additional resources after their installation), but 43 GB immediately unusable, that's still a lot.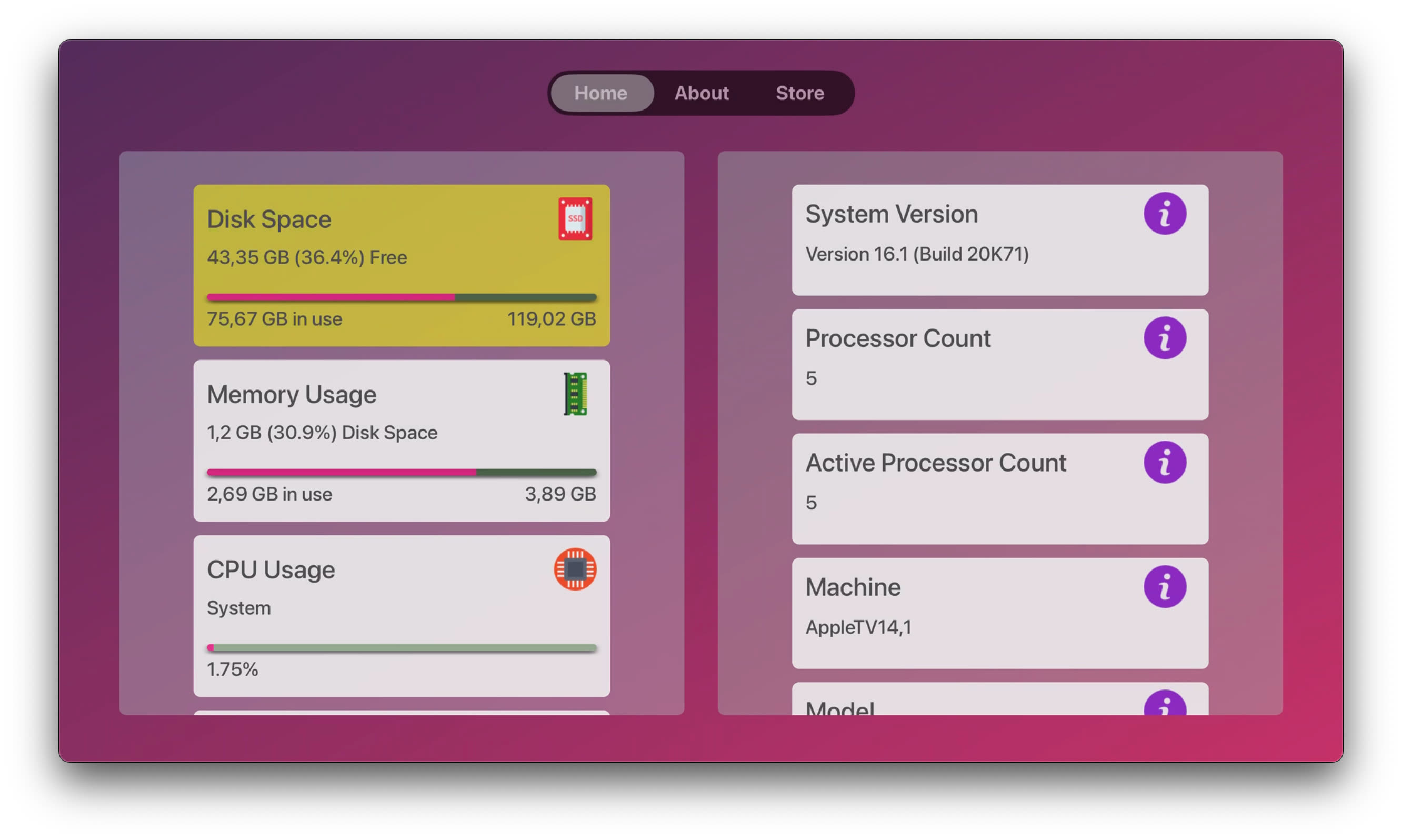 What makes us say that there is really a problem in the management of storage on the Apple TV 128 GB is the presence of another abnormal behavior. While there was therefore about 43 GB of free space left and the Apple TV no longer accepted new downloads, we therefore deleted a large game (more than 3 GB) in order to then be able to install a small app of a few MB Except tvOS wouldn't let us. Even by deleting 3 GB at once, it was impossible to install a 12 MB app. We had to delete several games to be able to reinstall apps.
In short, past a certain point (64 GB or more in our case), the Apple TV 128 GB no longer accepts new installations even though there is still plenty of free space. It will not be a handicap for everyone insofar as you already have to want it to exceed 64 GB, but it still has a bad effect for a paid option.
Despite this bug which will have to be corrected as soon as possible, the Apple TV 128 GB remains a model to consider, because it has other arguments in its favour: it has an Ethernet port and supports the Thread home automation protocol. She is sold 189 € compared to €169 for the 64 GB Wi-Fi-only model.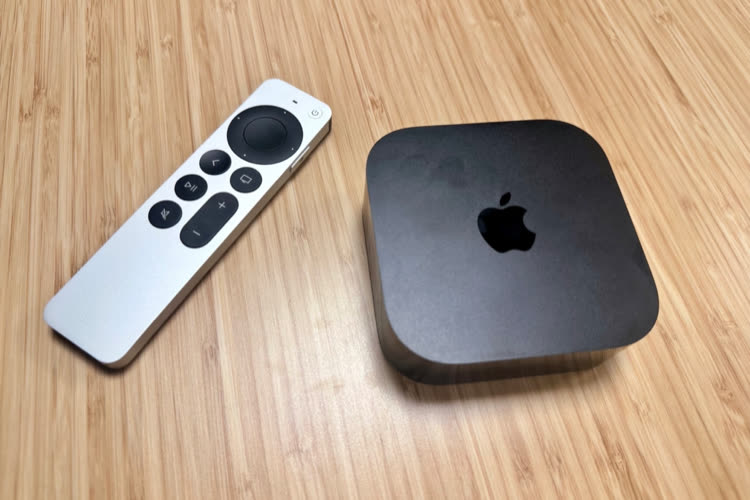 Apple TV 4K 2022 review: More compact, more powerful, but not so different
.