From February 8, Alexandra Lamy will star in Éric Barbier's film, Zodi and Téhu, brothers of the desert. A film that is both family and adventure, in which the actress – elected favorite personality of the Gardois in our last poll – plays the role of Julia, a French veterinarian who goes to Morocco to carry out analyzes on dromedaries.
GoalGard: If you allow me a small remark, we are quite proud of this film, we Gardois, because it is carried by three of ours. The director, based in Moussac, the actor Youssef Hajdi who grew up in Beaucaire and you, the Alésienne.
Alexandra Lamy: (Laughs) And it was cool!
You play the role of Julia, a veterinarian specializing in camels. How did you prepare for this role?
I met Coralie Le Meur who works with camels in Frontignan, near Sète. The dromedary is a particular animal which, due to its size, can be a little scary. I had had an experience in Morocco (during a shoot for the mini series A boy a girl, Ed) with a not very nice dromedary. So I wanted to prepare myself seriously and I did well because, from the first day of filming, Éric Barbier placed me in the middle of all the dromedaries, which I had to put my hands in their mouths. But in the end, it went well, this animal is pretty cool and endearing, you just have to wait for him to come to you, don't rush him.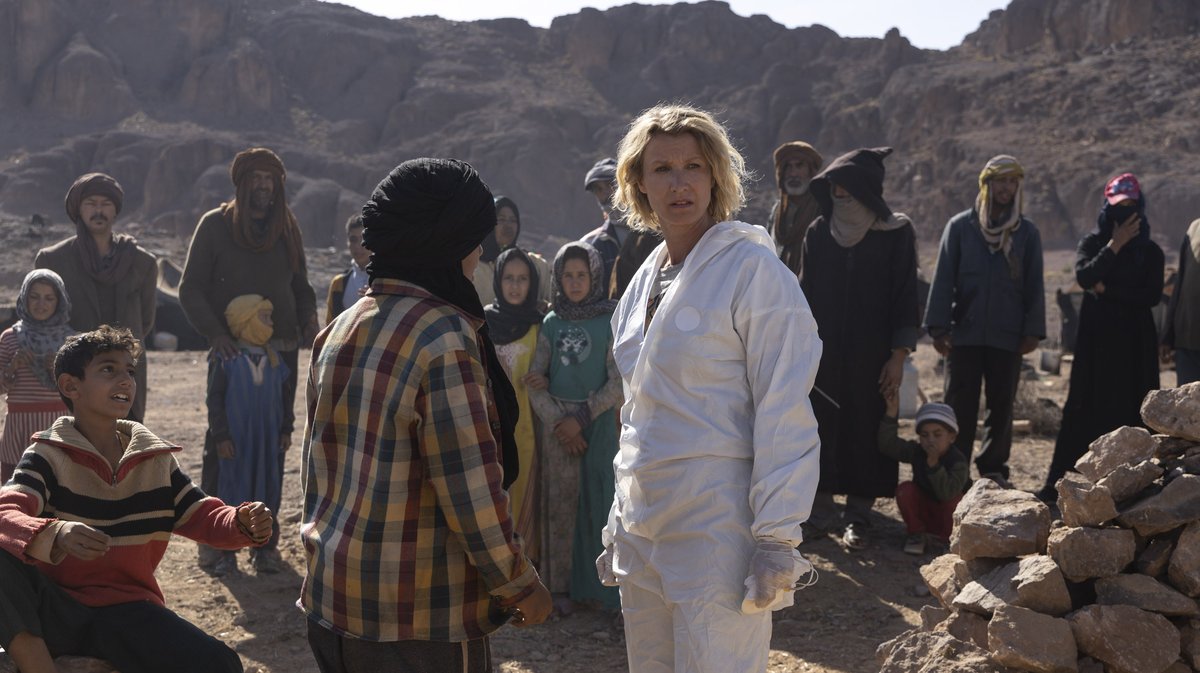 Was it a challenge?
Oh yes. On this first day of filming, I was surrounded by about twenty camels which must be more than 2m high. It's super impressive. But in the end, I think I was more reassured to shoot with dromedaries than with horses which can give you kicks, which can bite…
Is it easier to shoot with camels or certain actors?
(Laughs) At least the dromedaries, they leave you alone!
Julia, passionate, focused on her job, gradually forges ties with little Zodi, owner of Téhu. So different from each other at the start, we finally find a lot in common. And especially the lack of trust in others…
Completely. What I like about this character, Julia, – and that's what we talked about with Eric to give her a little more depth – is that she sacrificed her life a little, she didn't didn't have a child, we don't really know if she wanted one or not. At first, you can see, she doesn't quite know what to do with this little kid, she's held back, seems cold. And gradually, she becomes attached to it.
And with the young Yassir Drief who, let's remember, played his first role in the cinema, tell us about this meeting.
It was a pleasure to work with him, he wanted to learn, to work. We shot in Morocco so he was far from home, far from his friends (he lives in Belgium, editor's note) but despite all that, he was great, he was very motivated. He put his whole heart into it. I found it very balanced, because with children, you never know if it's them who want to make films or if it's the parents who push them. And then it's still a job, in an adult universe. It's not so easy to manage the fact of being placed in the center of a film, of all the attention for two or three months and all of a sudden everything stops, everyone resumes their life.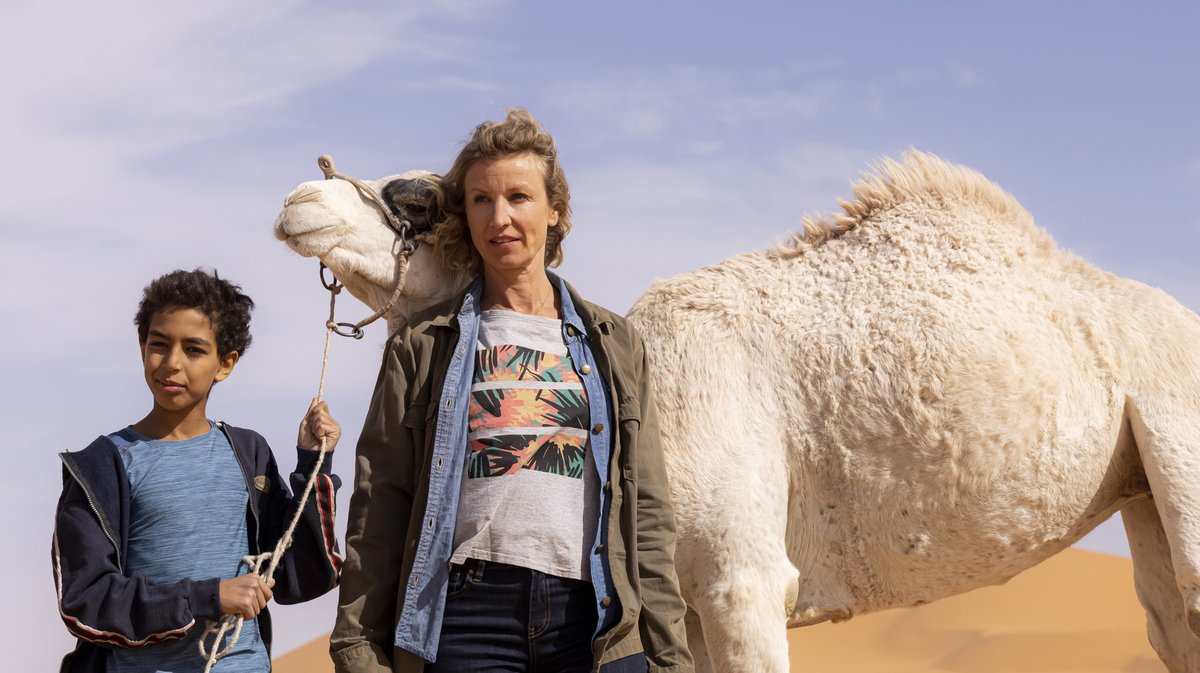 You say in the press kit that you wanted to shoot with Éric Barbier because this filmmaker always offers different things, that he knows how to take risks. In this film, what are the risks in your opinion?
For him, it was a first to work with animals, with children – even if he had already done it – in Morocco, a country in which we moved a lot, all of a sudden we were in the desert, then in Casablanca, then in Marrakech… And then, it's a rather complicated film because there are a lot of special effects, with a significant financial commitment. But I think his greatest achievement is to have made this family film, an adventure film and I find that great. From the beginning, we think of "Bambi" and then very quickly we get into the adventure with the 4x4s that arrive, it goes quite quickly.
You were talking about that big budget movie, another one will hit theaters starting February 1st, Asterix and Obelix: The Middle Kingdom. A word of encouragement for your sister, Audrey, since she is in the cast.
Of course and also to all the rest of the team. You know, the main thing is that French cinema works. I know that Guillaume (Canet, editor's note) put his whole heart into it. And so say, there is a great cast, it's great! I wish them well and can't wait to see my sister as Bonemine, I'm sure she's going to be awesome.
Since it's still in season, what wishes can we wish you for 2023? Remember that the year 2022 was marked in particular by the great success of the TV movie "Touchées" followed by 2.7 million viewers.
Already it continues! I would love to go back to directing. At the moment I'm writing something on a subject that is particularly close to my heart… I can't say more for the moment, but I would like it to start in 2023.
Alexandra Lamy and Éric Barbier will participate this Wednesday, January 18 in the previews organized at Kinepolis in Nîmes at 5 p.m. and at Cinéplanet in Alès at 6 p.m.
Synopsis
Zodi, a 12-year-old nomad, discovers an orphan baby dromedary in the desert. He takes him in, feeds him, baptizes him Tehu and becomes his best friend. Zodi learns from a veterinarian, Julia, that Tehu is an exceptional runner and that he can bring in a lot of money for his tribe. But the qualities of his young dromedary arouse the greed of Tarek the poacher of the region. To prevent Tehu from being sold, Zodi then decides to flee and cross the Sahara. It is during this trip that Zodi will face Tarek, survive a sandstorm and cross the sea of ​​salt with the ultimate goal of entering Tehu in the biggest camel race in the world in Abu Dhabi. With Julia's help, Zodi will struggle to realize his dream, make Tehu a champion and save his tribe.
Stephanie Marin